Australia's Kakadu National Park
Since vacation time is so short, Japanese tours usually include excursions to only the most famous attractions in the quickest amount of time. In Darwin, Australia, often this means only a day trip into the vast Kakadu National Park.With such a hurried schedule, travelers will miss the best experiences.

Most travelers will never see the waterfalls that splash into clear thermalswimming holes in scenic gorges, or the millions of migratory birds that stop off in the lush wetlands and rain forests. They will not be aware thatthere are thousands of Aboriginal art painted on the huge rock outcroppings. Few tourists will have a friendly conversation with someone in the localAboriginal community. These people are the traditional landowners and have graciously offered to share the knowledge of their culture to travelers. But we miss it!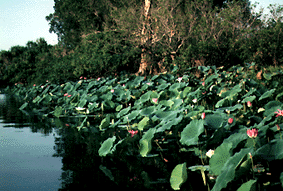 Instead of enjoying these great experiences, many tourists still choose big bus tours that stop at the same sightseeing spots.
They prefer to be in the gift shop than on a nature trail. They have chosen a "passive" instead of "active" tour experience because they follow the leader and never ask questions.
Unfortunately, these tourists are missing the real joy of travel in the Northern Territory. Wouldn't you prefer to travel by 4WD Landcruiser, or set off on a trail in a pair of hiking boots, a swim suit and a bushhat? Wouldn't it be great to camp and cook out at night under a million starsas wallabies hop about and parrots fly overhead? But most tourists hurry back to their generic 4-star hotel after a day in nature and leave the nextmorning for the next destination.

More and more, travelers from Japan are becoming more confident to try traveling on their own. Japanese tour companies are afraid that they are losing their customers who don't want big tours. These independent and budget-minded travelers want more flexibility and variety in options. To attract customers, some tour companies are adding valuable services to their tours by including special nature guides. These guides are different from usual tour conductors. They are specialists in their field and they provide travelers a more personally meaningful, educational and locally interactive journey.